UltraTrust Press Releases: December 2012
UltraTrust.com Press Releases (Estate Street Partners, LLC)
Obama Watches While Millionaires Make Up To $1M per Hour with Irrevocable Trust
Millionaires Beat the Fiscal Cliff
Estate Street Partners affirms that individuals with assets only have a limited time to save millions before the Tax Relief Act expires December 31, 2012.
Boston, MA (PRWEB) December 13, 2012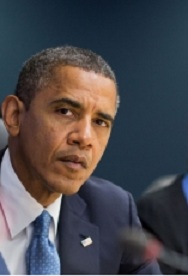 Obama Looking a Bit Befuddled by it All
Marginal estate tax rates are reverting back to 55% on Jan 1, 2013 and that means that Millionaires can pass onto their heirs up to $1M per hour more than they would have been able to if they take no action. "When we put together estate planning, we do most of the work," explains Rocco Beatrice of UltraTrust.com, "Whatever firm you decide to use to get an irrevocable trust drafted, your part comes down to a few hours of information gathering. An amazing amount of money can be saved before the end of the year. For a married couple with a 10 million dollar estate, they can save estate taxes and gift taxes of 4.4 million dollars. If you don't have a $10M estate, you'll save 55 cents on every dollar over $2M for a married couple and 55 cents on every dollar over $1M for a single person. Even if you are $100,000 over, you could save $55,000 for your family." Read more...
Obama Watches While Millionaires Make Up To $1M per Hour with Irrevocable Trust
---

We never share your email information with third parties. We collect your email address so you can benefit from money-saving tips. For more information please review our privacy policy.
Powered by EmailMarketingServicesCo (a division of Estate Street Partners®)