UltraTrust Press Releases: November 2009
UltraTrust.com Press Releases (Estate Street Partners, LLC)
Republicans Rammed Through New Conversion Roth IRA Rules
to Help the Rich Reduce Their Taxes According to BestIRARescue.com
2010 Roth IRA rules could save taxpayers tens of thousands in taxes just in time before expected tax hikes affirms Best IRA Rescue.com.
Boston, MA (PRWEB) November 24, 2009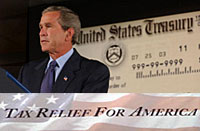 New Roth IRA rules passed by Bush could help
reduce Obama's $12 trillion deficit spending
The new conversion Roth IRA rules signed by President Bush was enacted by the Tax Increase Prevention and Reconciliation Act on May 17, 2006 which allows the taxpayers with a MAGI of over $100,000 to roll over their traditional IRA moneys to their Roth IRA. Depending on their situation, these new Roth IRA rules will offer the wealthy tax-free retirement income and decrease their capital gain and income taxes into retirement states Rocco Beatrice of Estate Street Partners and retirement planner of BestIRARescue.com. Read more...
Republicans Rammed Through New Conversion Roth IRA Rules
---

We never share your email information with third parties. We collect your email address so you can benefit from money-saving tips. For more information please review our privacy policy.
Powered by EmailMarketingServicesCo (a division of Estate Street Partners®)